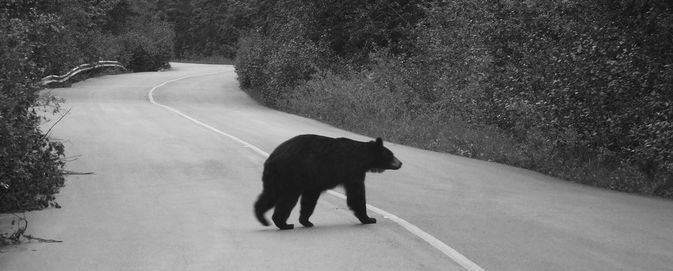 Hi again!

I can't really tell why i wasn't motivated to write anything for such a long time. I am lazy for sure, but that is nothing too new. Still i find myself rather unmotivated to dig through that big pile of memories, as there are new adventures to come and i haven't prepared anything for that either. This said i will keep it short and just write down whatever comes to my mind without editing or anything. So even though "i have words, i have the best words" you might find yourself being overwhelmed by poor word choices and illogical sentences in general - that's part of the deal. Also i still haven't figured out how to change the language settings… :)

Once upon a time, there was a boy and a girl driving through canada. After a little vacation in the town of Lillooet they were heading east towards the rocky mountains. Soon the rough landscape began to change again and more and more trees popped up on the side of the road. It was one morning on one of those extremely foresty offroad campgrounds, when i woke up and saw some big fat beaver-like thing crawling underneath our car. I woke up a confused Talya to watch the animal coming out again on her side of the vehicle - only that never happened. Turned out that thing was living somewhere underneath the car and i probably just caught him on his morning toilet run. Anyway, even a big wooden stick poking his furry ass couldn't make him leave, so we called him Bernhard and kept on traveling. 
A few days later we entered the Icefield Parway, the "main" road in the Rocky Mountains which i already visited with Anna last year. Only this time it happened - we saw a bear! What a cute little killing machine. And we kept on being lucky, in total we spotted 6 black bears, all looking for food on side of the road literally not giving a fuck about cars or people or anything else around them. Even in the most well known national park of Canada we were able to find some back-country overnight spots with a the four wheel drive car, a thing not possible with my old van.
Leaving the Rockies through the town of Jasper we came to Hinton (again!), where a getting-shit-done-day was to be survived. Talya decided to stay a bit longer with me, which was fitting the plan perfectly except my Canadian visa running out too early. With that in mind we knew we had to be at the US border at some point, which then defined our travel route for the upcoming weeks. We kept going south on some unsealed roads mainly used by the mining industry, a place visited so less, they don't even bother removing that "merry christmas" sign hanging off one of the bridges.
Further south we ended up on highway 11 close to Saskatchewan River Crossing. This area is not part of the national park anymore, but it's probably the most beautiful place i have seen in canada. Tacky blue lakes and rivers in front of idyllic plains, surrounded by huge mountains. We found a little track down to Douglas lake, where some wild red flowers bloomed all over the place. Stunningly beautiful (or to use our favorite word: neat) and truly Canadian. Just look at the pictures!
One day later we found ourself in a whole different world. In fact the bigger part of Alberta looks like it, and it is not the kind of Canada you see on post cards. Well okay, you don't see any kind of Canada on post cards anyway as i'm too lazy writing them. But the point is, we didn't expect it. "Fucking farmland" was defined by straight highways for hundreds of kilometers with plain green fields on both sides of the road. On one hand that is not the kind of area you buy a V8 four wheel drive car for, but there is three more problems to it: flies, finding overnight parking spots and again flies. One night i ended up driving the car on an steep pile of moved dirt on a highway construction site to stay overnight, as there was no other option after hours of searching. And by that point our brains already had some kind of an automatic nightspot seeking thing going on, we just kept seeing night spots literally everywhere and everytime, especially when we were not looking for it. Will that ever go away?? To be fair we eventually found some cool places around Drumheller, where the flat land is interrupted by rough valleys and historic dinosaur places. And as we all know dinosaurs are awesome. Fuck yeah dinosaurs!
Close to the US border we headed west towards the Kootenays, where we met an old friend and had some involuntary adventures. I'll write about that in a couple days. probably. stay tuned! Flo
P.S.: now i almost forgot our "picture series of the months":
---
Teile diesen Blogeintrag: